Do you know this pantyhose glossary? As men, if you know it will help you to buy pantyhose & tights. First of all, you understand that pantyhose is now generally category as hosiery. So if you know that hosiery glossary is naturally applicable to pantyhose, of course, men's pantyhose is also applicable, because there is a website for sharing men's pantyhose.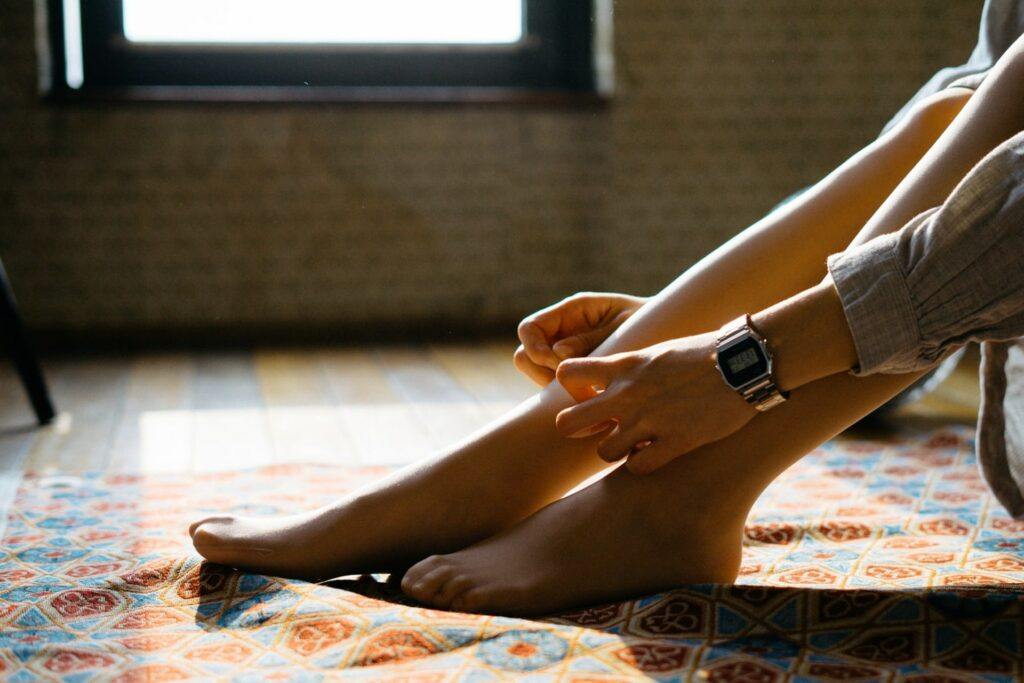 In this post, I am not going to introduce hosiery vocabulary in detail like Wikipedia, but we need to know some basic vocabulary that can help men understand pantyhose and help men buy pantyhose. Pantyhose is an American English term used to signify sheer tights (up to 30 deniers). Also, in the US "tights" describes opaques (over 40 deniers).
Tights & Pantyhose glossary
There are many hosiery glossaries, but we only need to understand the glossary of pantyhose or tights, because most of them are similar concepts. So you are a man, don't feel frustrated about this, because I try to make it simple.
Denier

Denier is a concept that novice men need to understand when buying pantyhose. Simply put, it means the thickness of the pantyhose you buy. to be more specific, denier refers to the weight of the yarn that was used to produce the item of hosiery. A higher denier of yarn results in a thicker pair of tights. Hosiery items range in denier from around 8 up to as high as 200 or more.
Men buy tights that you need to think about how much coverage you require, depending on; where you wish to wear the item, the weather at that time of year, and what look you wish to achieve. For example, higher denier tights will feel thicker, which will keep your legs warm.
---
Control Top
Control top hosiery can effortlessly help flatten the lumps and bumps that you're not comfortable with around your tummy area, creating a smoother silhouette. This shapewear is also popular for women to wear post-pregnancy as it gives support to the stomach area.
Toes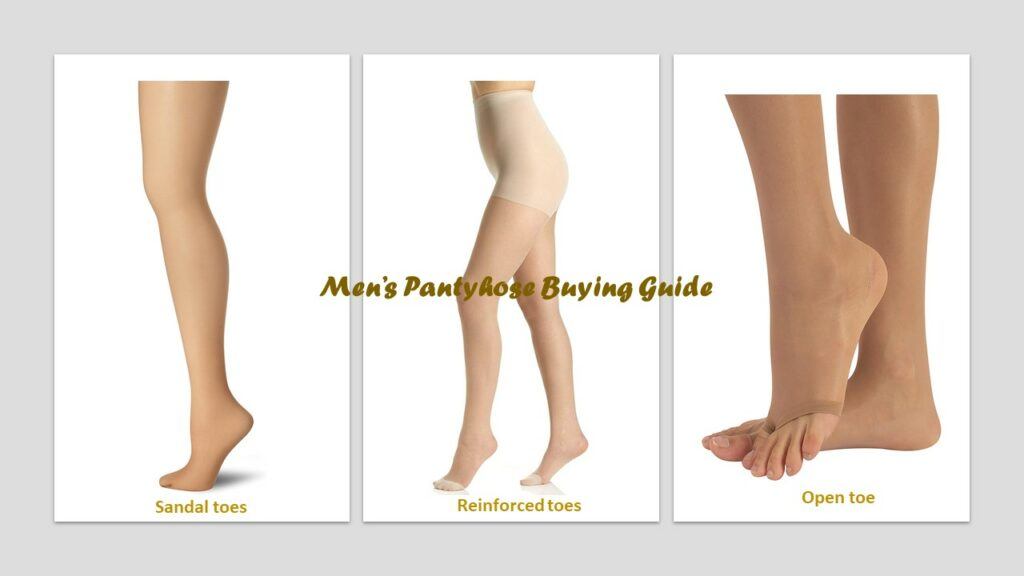 There are usually 3 types of Toes, they are:
Reinforced toes: prevent damage that can occur in the toe of some hosiery. Manufacturers include a strengthening panel, preventing tears and rips. This can be sometimes be seen so it is often worn with shoes that cover the toes.
Sandal toes: use lighter-colored or sheerer material, mimicking the sheerness of the rest of the garment. This provides strength and invisibility. Perfect for toeless shoes.
Open toe: means a garment where your toes are free of material entirely. These can be perfect when wearing toeless shoes or any footwear with straps that go in between your toes. Open Toe Tights
Plus Size Pantyhose & Tights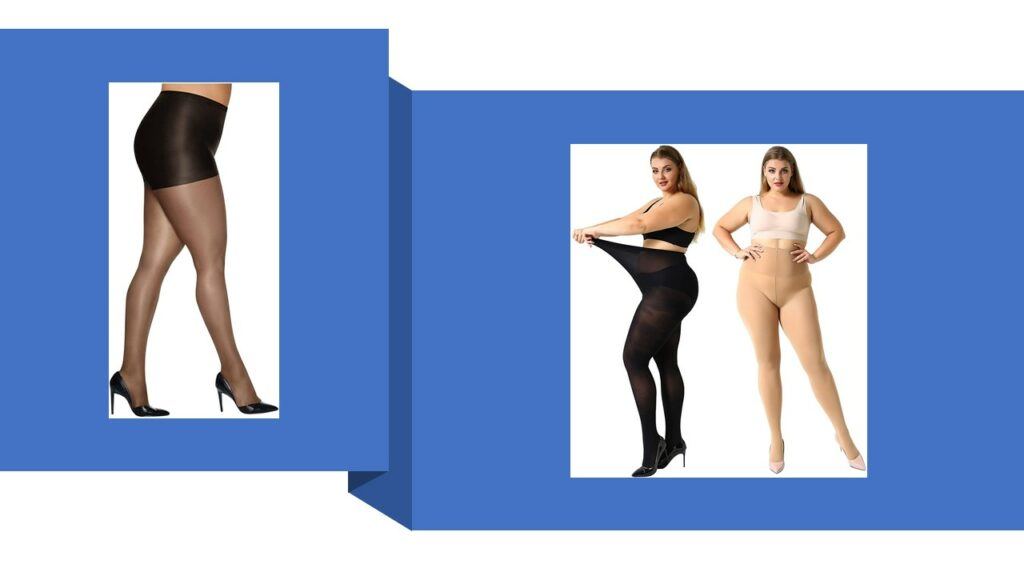 If the pantyhose you are buying is not made specifically for men, it is also a good idea to consider buying women's plus size pantyhose.
plus size collection delivers high fashion pantyhose & tights, stockings, and hold-ups to men of sizes: Large (L), Extra Large (XL), Extra Extra Large (XXL), Extra Extra Extra Large (XXXL), 4XL, 5XL, and more. Plus size hosiery is constructed slightly differently to comfortably fit extra thigh width and hip-width. It's important to pick the correct plus size product so that the item is comfortable and durable-poor fitting products will rip or ladder more easily.
Carefully check size charts and features of the hosiery item and consider what issues you usually face with fit to make sure you choose an item that works for your shape.
---
Back Panel
You may have seen this term written on the packaging. It simply means an added piece of hosiery, shaped like a V and it is inserted between the seam at the back of the tights. This is sometimes called a comfort panel, although they are rarely comfortable. This is designed to give extra width across the bottom which helps to extend the size.
---
Seamless Pantyhose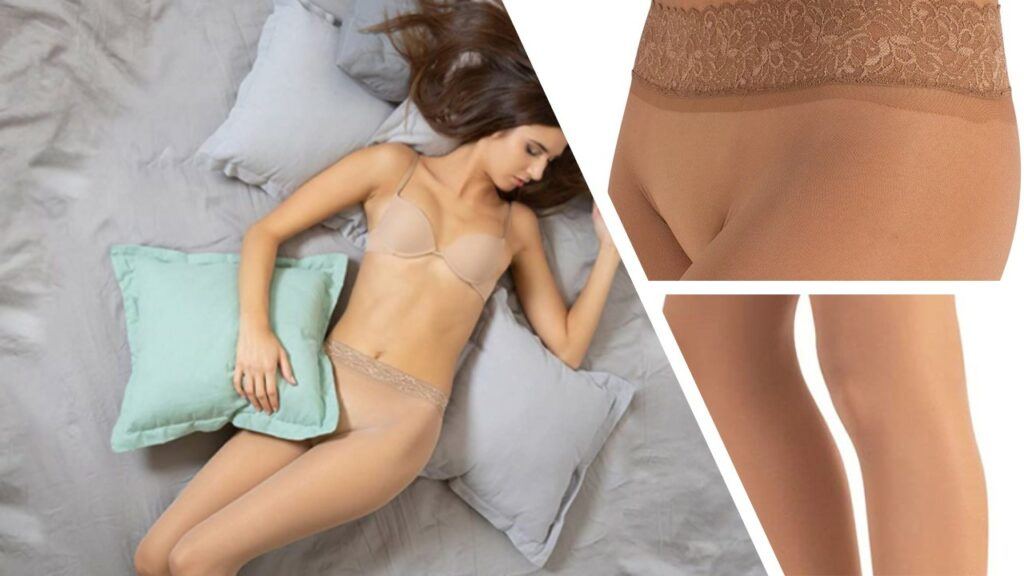 The so-called seamless pantyhose means that the stocking tube of the pantyhose and the waist tube of the waistband are seamless (mainly refers to the pantyhose); on the contrary, it refers to the production process of the underwear sleeve tube and the thigh tube. Sewn, so it can be spliced! Seamless tights are normally knitted on a special machine and are made in one piece. There are no seams to dig into your skin and the product is often sheer.
---
Thigh / Bum Control
Thigh and bum control hosiery is brilliant for creating smooth lines around your lower pelvic region, upper thigh, and bottom. Often referred to as 'Body toners' this collection of hosiery can really boost your confidence in close-fitting clothing as not only do you benefit from leg-perfecting coverage, the shaping panels trim and lift your body so you look and feel your best. Do you know this pantyhose glossary?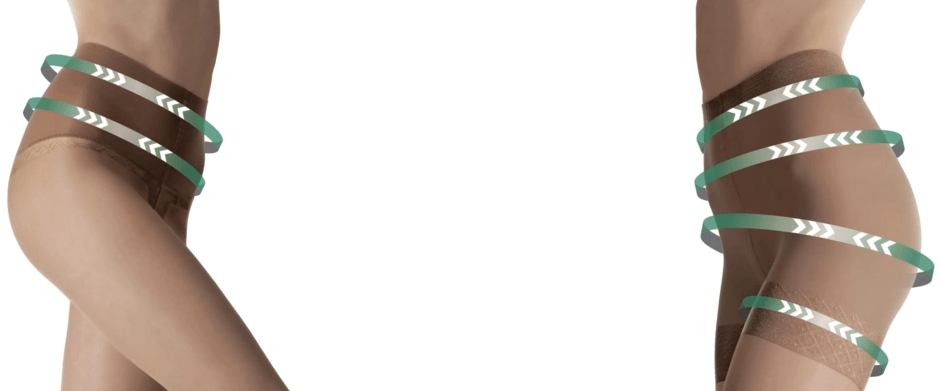 ---
Tights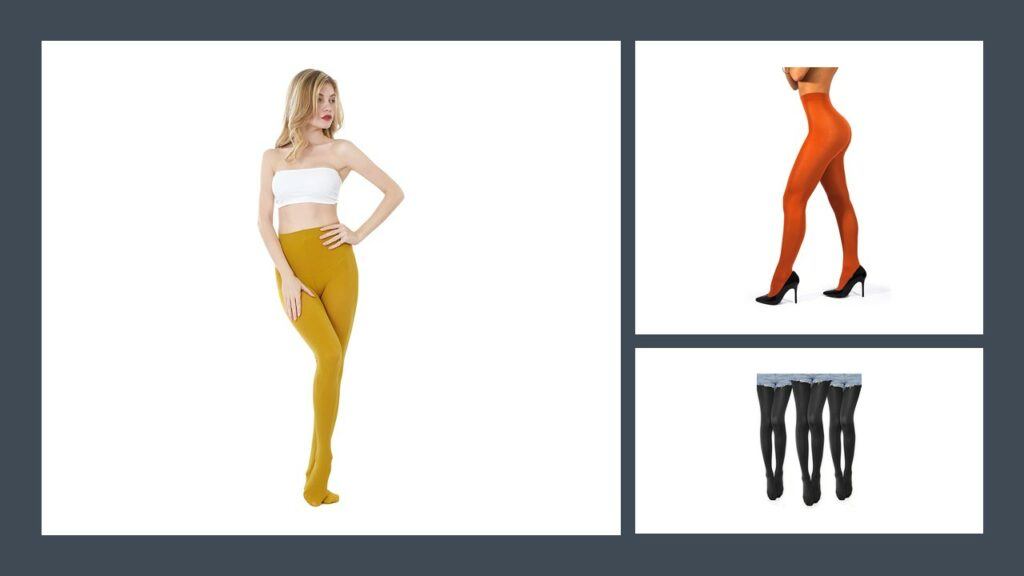 Just like the word Tights you can see above, it is the same as pantyhose, but it is called differently. Generally speaking, it is called Pantyhose in the United States and Tights in the United Kingdom. In addition, you can buy it in the supermarket or on the website. Need to know that they are the same. Tights are also commonly known as pantyhose, particularly in the USA. Tights (or pantyhose) are superb for giving your legs comfort and warmth, style, and individuality. They're also hugely practical and go hand-in-hand with workwear.
Sheer Tights • Opaque Tights • Seamed Tights • Fishnet Tights • Shiny Tights • Slimming Tights • Suspender Tights • Lace Tights

GLAMORY Classic 20 Denier Men Tights Plus Size
Amazon
Do you know this pantyhose glossary
---
Footless Pantyhose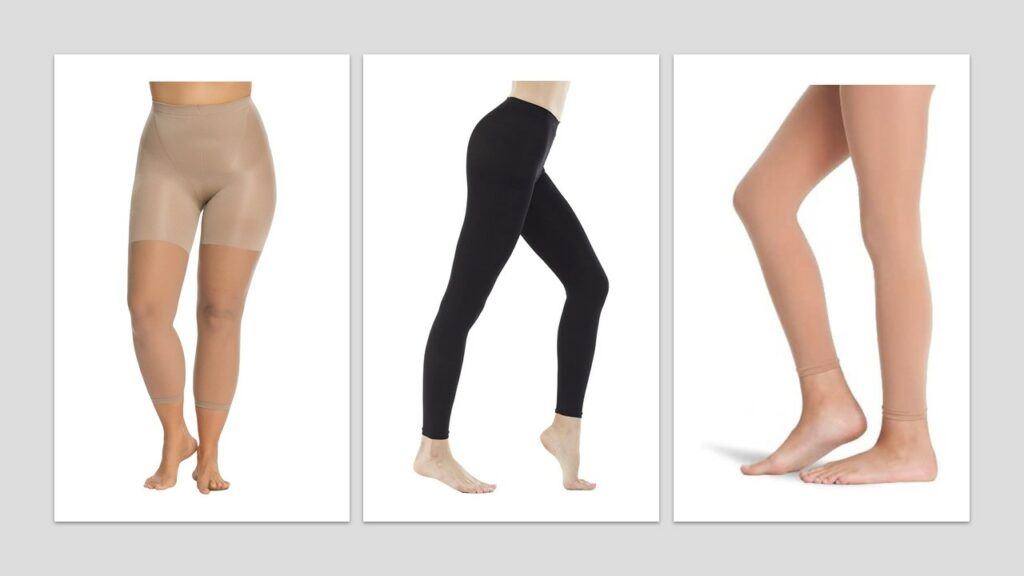 Footless pantyhose are items that end at the ankle, leaving the foot free. Ideal for warmer temperatures so your feet aren't overheated.
Footless hosiery, commonly recognized as leggings or footless tights, is styled in the exact same way as normal tights, however, they end at the ankle rather than running straight to the toe. Take a look at some well-fashioned footless hosiery, available in a number of finishes and styles.
Do you know this pantyhose glossary
---
Compression Pantyhose & Tights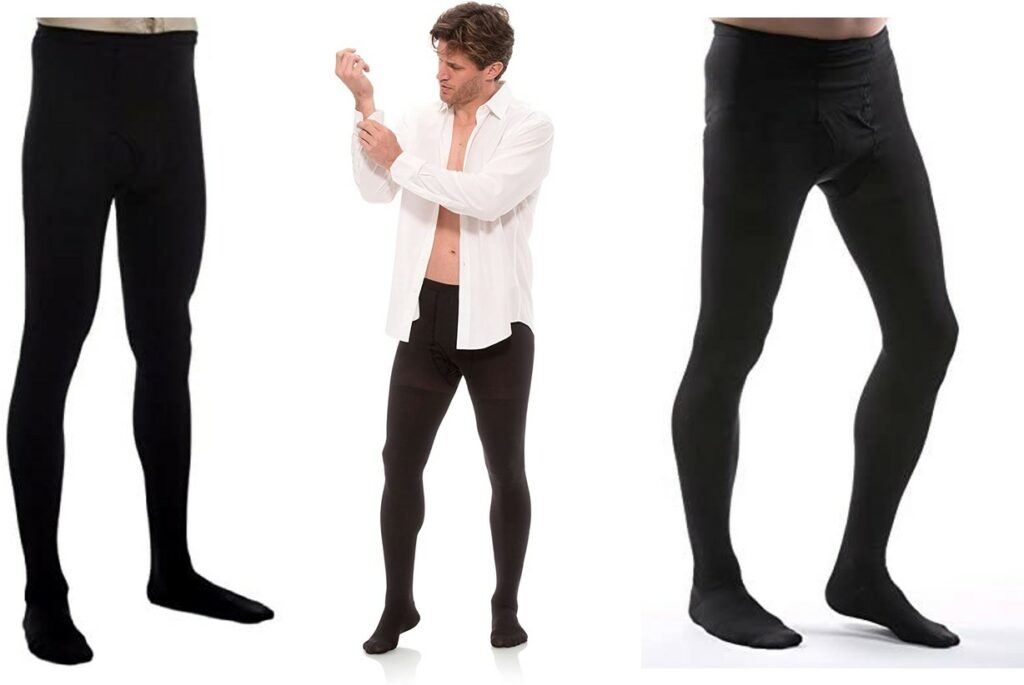 Compression pantyhose is a hosiery product with certain medical uses. Both men and women can buy compression pantyhose that suits them. Of course, you may also buy unisex compression pantyhose.
Compression pantyhose have a host of health benefits as they apply pressure to your legs and feet to encourage blood flow. This can help to improve swelling, fatigue, and muscle ache as well as reduce the risk of blood clots. Compression pantyhose are used to treat those suffering from deep vein thrombosis and have been seen to improve the performance of athletes by supporting the major muscle groups. Compression tights are also popular with pregnant women as they can help with tired legs and swollen ankles. 
Do you know this pantyhose glossary?
---
What is mmHg?
If you are buying compression pantyhose, you usually have to understand another word, mmHg, because compression pantyhose has medical uses and is usually used to improve leg health. If you have a family doctor, it is best to consult him. Because he will give you more professional advice. Then let's take a look at the definition of mmHg.
Medical Definition of mm Hg: a unit of pressure equal to the pressure exerted by a column of mercury 1 millimeter high at 0°C and under the acceleration of gravity and nearly equivalent to 1 torr (about 133.3 pascals)The pulse was 110 beats per minute and the blood pressure was 105/60 mm Hg …— Michael Drancourt et al., The New England Journal of Medicine, 16 Feb. 199534% of treated eyes had only a transient rise in intraocular pressure of 5 mm Hg or more …— David Frankel, The Lancet, 27 Dec. 1995

https://www.merriam-webster.com/medical/mm%20Hg
Skin Tones and Colour Guide
Porcelain/English Rose. This skin type is typified by paler, fairer skin. Cette's Tendresse and Levante's Natural are ideal for Caucasian skin and Trasparenze's Bianco-Seta is ideal for porcelain and Nordic skin. strong colors like burgundy and greens work well also. Olive/Mediterranean. Those of you who have the gorgeous hint of golden honey in your coloring, choose something richer in color to compliment your natural tones and choose neutral tones to make the most of your complexion Asian.
This tone is defined by subtle hints of yellows and browns. Picking a darker palette, like earthy browns, can complement this tone or you can go with extremely bright colors like pinks and yellows for contrast. African. Black is a classic choice for anyone but is particularly good for darker skin. African skin tones are also great for contrast, so choosing something very light, like a cream or ivory, can work very well. Like Asian skin, bright colors stand out even more against your body and look stunning.
ARRUSA Super Durable Plus Size Tights
12.59
Plus Size

Super Durable

Skin-Friendly

Slim body
ARRUSA Super Durable Plus Size Tights
ARRUSA Super Durable Plus Size Tights, Especially design for plus size between 130-220lbs. These high waist pantyhose has better elasticity than normal sheer tights so it can fit for most big lady. 15D design makes this shiny top control tights very thin so you can feel cool in summer. The stockings can cover spots or marks on the skin. Meanwhile, block the sun and protect your skin.
Comments Rating
( review)
Pros
Friendly, shiny, soft, silk feel and breathable
Plus Size
Better elasticity