Do you like to wear anklet and pantyhose in your daily life? Then do you know what an anklet is? Also known as ankle bracelets or ankle chains, anklets are jewelry pieces worn around the ankle that are made of precious metals, like gold or silver, or fun beads and charms. Utterly provocative and seductive, anklets or ankle bracelets are making a huge comeback at the moment.
Skill 1, Wear anklet inside pantyhose, Skill 2, Wear anklet outside pantyhose
The Rise of the Anklet Trend
To set the record straight, the shimmer glimmer ankle bracelets started to sneak to us sometime around 2011, when the Row designer Ashley Olsen had a sudden crush on this foot candy and thereafter led the way as the anklet queen. Her dainty choices have never failed to work like a charm whether worn with heels, flats or comfy sneakers.

The obsession reached its apogee when the Row's collaboration with the jewelry designer Ileana Makri gave birth to covetable ankle chains retailing at $4000 at Net-a-Porter.

Over the time other high-profile characters confessed their love for anklets, among them being French photographer and fashion blogger Garance Doré. She wrote on her blog: "So there you go. I confess. I. love. anklets. Well, I know what you're about to say: I suppose with a pair of shiny red stilettos, it could send the wrong message. BUT I think that with summer here, with some flats, it's sensual and incredibly beautiful".

https://glowsly.com/anklets-ankle-bracelets-meanings/
Which Foot Can Wear an Anklet
Some people wear anklets not only for fashion and beauty but also to express some meanings. Can you perceive them? Let's take a look at the meanings and taboos of these anklets.
What's Mean of Men Wear Anklets
In Asian countries, men wear anklets on any one foot. Wear it left foot to help you against the villain, and wear it a right foot to bring you good luck. If it is given by an intimate person for your gift, it is best to wear your left foot so that the other party can reunite with you in the next life!
In other countries, For thousands of years, men used to wear anklets. they have specific purposes, the material should be silver or copper but never gold or other artificial things. Silver keeps your body cool and also creates positive energy.
In many ancient cultures and even in today's India both men and women wear anklets. obviously with design differences. (men anklet is thicker) .
Women's Which Leg Can Wear an Ankle
There seems to be much debate around this question – whether to wear your anklet on the right or left ankle. While most people don't bother about the right or left thing associated with ankle bracelets, others attach much importance to that issue.
Women wearing an anklet are generally for the sake of beauty and can be worn on any one foot, even when both feet are worn. It is okay to follow the rules of "male left female right".
What to Pay Attention When Wear an Anklet
1, the problem of tightness
The anklet should not be too tight, otherwise, it will give people a feeling of being tied by lotus seeds; proper looseness is more likely to produce beauty and present an overall effect.
2, color selection
The color of the anklet should be unified with clothing, shoes, and so on. If the colors are too far apart, it means you are mismatched.
3, the size of the anklet
The overall size of the anklet should be coordinated according to the actual size of the ankle. People with too large ankles are not likely to wear too wide or too large anklets.
4, anklet style
The style of the anklet should also match the style of the shoe and the height of the heel. Mid-heel or high-heeled sandals are generally suitable for a small anklet.
5, wearing principles
The anklet is not suitable for wearing both ankles at the same time. Generally, one ankle is worn and only one piece is more asymmetrical. However, there are many disadvantages to the legs and it is obvious that they are not suitable for wearing.
6, wear anklet and pantyhose
It is best to wear the anklet outside the pantyhose or stockings. This will not only make the anklet eye-catching but also avoid the mistake of thinking that the anklet stays in the sock.
Skill 1, Wear Anklet Outside Pantyhose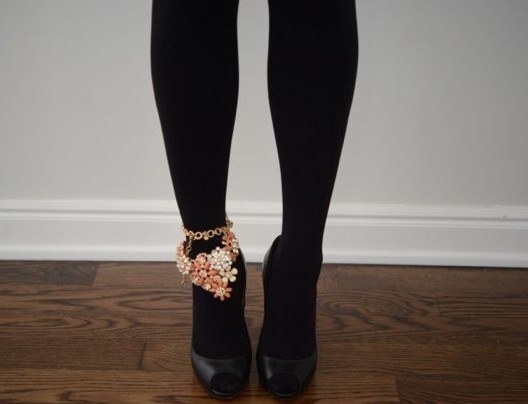 Not that proudly, though. No matter how cold your town is, there is no excuse to wear anklets over tights. They don't look good and will most likely snag on the soft clothes.
Skill 2, Wear Anklet Inside Pantyhose
A lot of people prefer to wear it on the outside so that it drapes naturally and freely; with no restriction of movement. It is free to move and change the way it drapes on my ankle whenever they walk or otherwise change the position of my leg. That movement is extremely sensual and represents my freedom to do as I choose!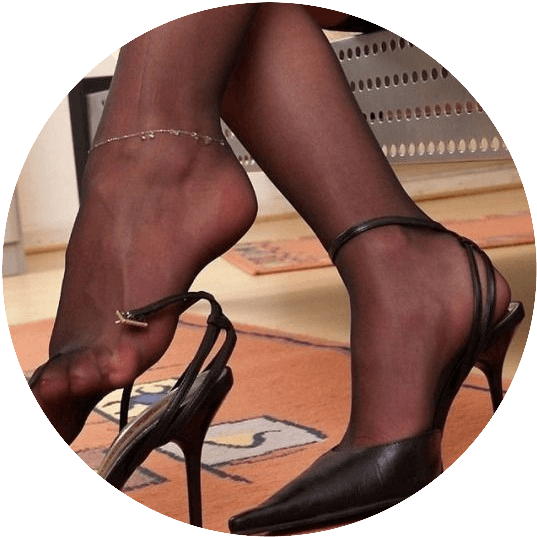 The same holds true for loose bracelets and bangles worn on the wrist! I love to feel that freedom of movement! That sensual swish that excites every fiber as it caresses my skin!
7 Ways To Wear Ankle Bracelets
When we wear the anklet, we need to pay attention to the six points mentioned above. A good and suitable way to wear can show your noble temperament, so you want to wear an anklet. So what do you need to pay attention to when you wear the anklet? Do you want to take your personality and style?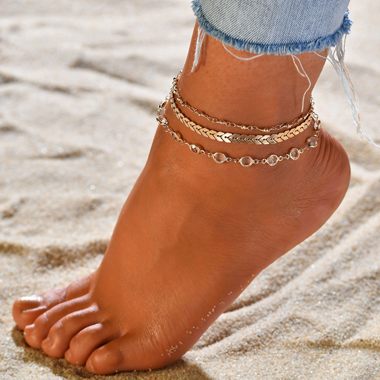 1. Double Layering Beach Anklet 18K Gold Plated
The simple beach anklet is the perfect accessory for the summer. Gorgeous bohemian style gold anklet with double chain. Two tiny chains wrap the ankle, creating a lightweight and fluid summertime accessory. This basic and sparkling simple anklet will add a subtle beauty around your ankle.
2. OPK Jewelry 18k Gold Plated Women Anklet
Best Christmas /Wedding /Anniversary /Birthday Women Gift. The anklet fashion and has a heart shape that I like the offbeat sneaker-anklet combo.
3. Flat Marina Link Anklet
Adorn your tanned legs with this sparkling gold plated anklet. This chic ankle bracelet is crafted in 18k gold plated and features a flat marina 080 gauge link and a secure lobster claw clasp to keep it in place. Get summer-ready in style. Guaranteed to retain its original gold content and color.
4. Gold Beaded Ankle Anklet Bracelet
I just want to say that it is a bit expensive.
5. Anklets Over the Boots
This was a hit. Fashionable and cute over my boot. Western Bling Fashion Single Boot Strap Chain Bracelet – Metal chain strand charm – Classic chunky chain trendy western style Made in the USA.
6. Ankle Bracelets Set
I love these lightweight anklets! Having three in the order gives me so many different ways I can wear them. All three together on one leg, two, or just one. They match all my outfits and they are securely made. I can adjust them to fit how I want to wear them. The extra chain length does not bother or tickle my ankle. I feel confident wearing them and I definitely recommend!
7. Anklet for men & Men Wear Anklets
Designed for personal wearing or to be the Christmas, Halloween, birthday, anniversary gifts for father, mother, friends, lovers, couples, motorcyclists bikers, tattoo fans… or just yourself. Unisex multilayer fashion bracelet. Material: Hemp Cords
Bracelets Men Women Review
9.99
Value for money

Giftable

Durability
HZMAN Mix 6 Wrap Bracelets Men Women
Do you like to wear anklets and pantyhose in your daily life? Designed for personal wearing or to be the Christmas, Halloween, birthday, anniversary gifts for father, mother, friends, lovers, couples, motorcyclists bikers, tattoo fans… or just yourself, Unisex multilayer fashion bracelet.
Comments Rating
( review)
Pros
Good quality
Value for money
Giftable
Durability
Cons
Can't wear it in the bath