2021 Threads Opaque Tights Review, Recently, I know about the Tights of the Threads brand through hosieryformen's blog, but unfortunately, I have not searched for it on Amazon at the moment, so I cannot buy the Tights of this brand, but I will try to buy it on the official website. So the review below is a reference from hosieryformen's blog, and you can find the original link at the bottom.
Hosiery brand Threads recently sent us a pair of their opaque tights to trial and review.

You can still read Part One and Part Two of our recent conversation with Xenia Chen, the founder of Threads.

In Part Two you can read about how Threads is aiming to launch a new style of tights for men.
Threads Opaque Tights Review
This is our first Threads product review. For lots of feedback on Threads tights from their many male customers check out their videos here and here.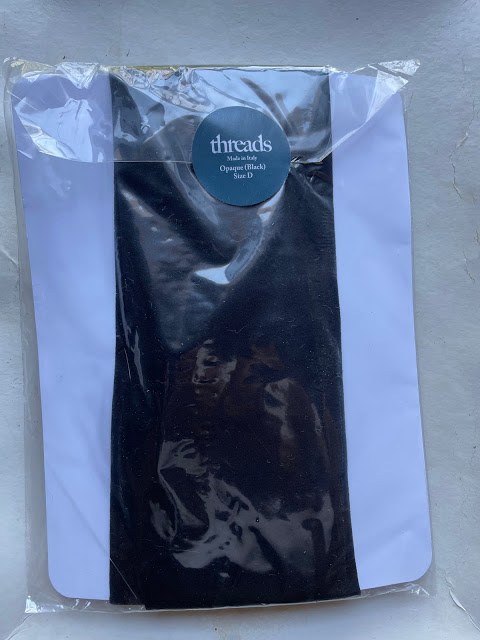 This is how Threads describe their opaque tights:
"Our opaque tights are our 60 denier tights. Comfortable and functional, with our signature Threads contoured waistband. Wear them with your favorite dress or skirt, or underpants as an extra layer for warmth. Made in Italy."
Packaging
The Threads Opaque Tights are very simply packaged. The tights are folded around a plain white card and then enclosed in a cellophane envelope. It is closed with a Threads sticker that identifies the size.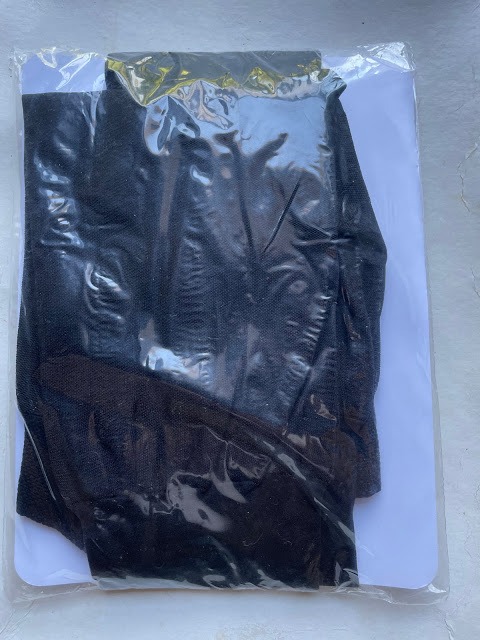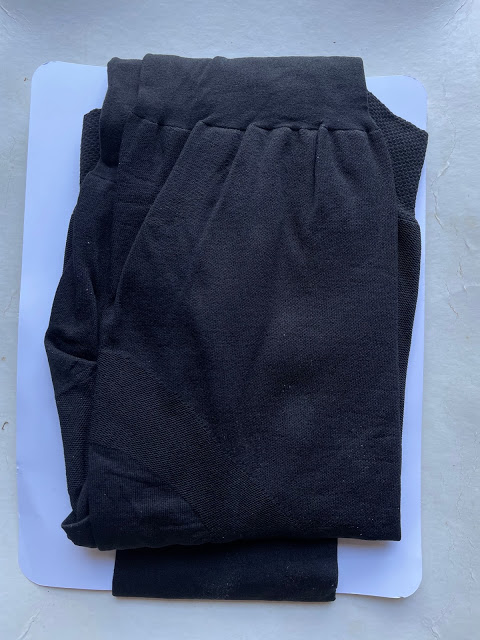 Materials & features
The Threads Opaque Tights are made in Italy, which is invariably a pointer to quality. The yarn is 85% Polyamide and 15% Elastane.
Threads describe the yarn used as 'microfiber double-covered yarn', which has been designed for enhanced comfort, and is also less likely to produce static and stick to one's clothes.
The tights feel quite strong and robust as they are removed from the packaging. Threads themselves say that they are 'built to last.
The brief and waistband both have notable features. The brief measures 25cm from the top of the waistband to the crotch. It is made from a very elastic, stretchy more opaque yarn which is designed to hug you and ensure the tights stay up.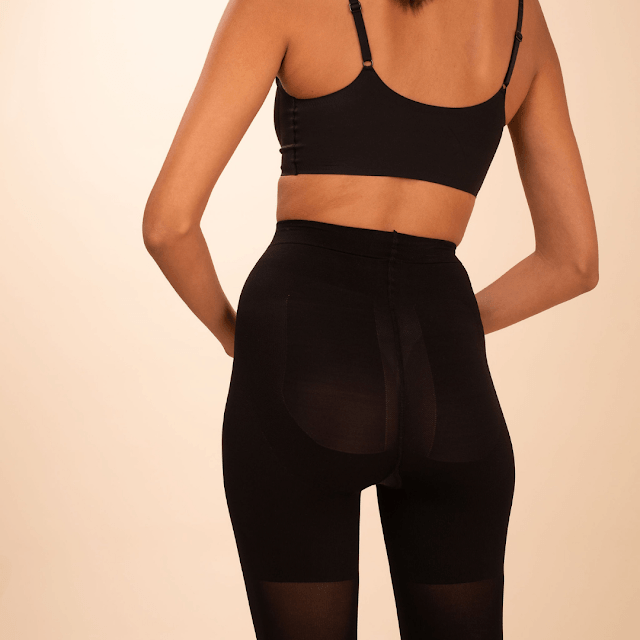 The rear of the brief has two rounded sections that are designed to sculpt and lift the buttocks.
The tights are not sheer to the waist: there is a clear demarcation between the brief and the leg. Seams are flat and there is a gusset for comfort and fit.
The waistband is 5cm wide and super stretchy.
Toes are rounded and have no reinforcement.
Threads say that these opaque tights are made with an 'enhanced (longer) leg length'.
Sizing, fit, and wearing experience
The Threads Opaque Tights are available in four sizes: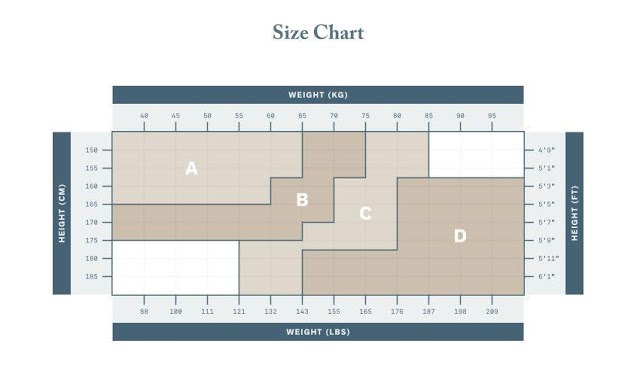 I wore a Size D.
I took some care putting them on. You need to ensure that the tights are the right way round and that the panels in the rear of the brief are aligned over the buttocks. The brief itself has quite strong elasticity and you need to carefully stretch everything into place.
Once on, the fit was quite superb. There was a good length in the leg. Opaque coverage was even and consistent. The tights felt much softer and smoother when actually worn. There is no wrinkling or bunching as the 15% Elastane content ensures that the tights mold themselves to the leg.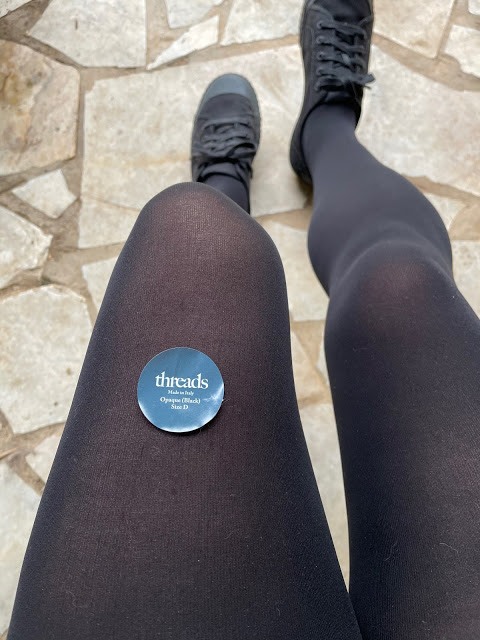 The brief provided quite firm support – you can feel it hugging you and holding you in. But it did not feel at all uncomfortable. It keeps the tights in place removing any need for frequent pulling up. The brief stretched comfortably above the waist and hips, and provided a pleasant sensation of mild compression.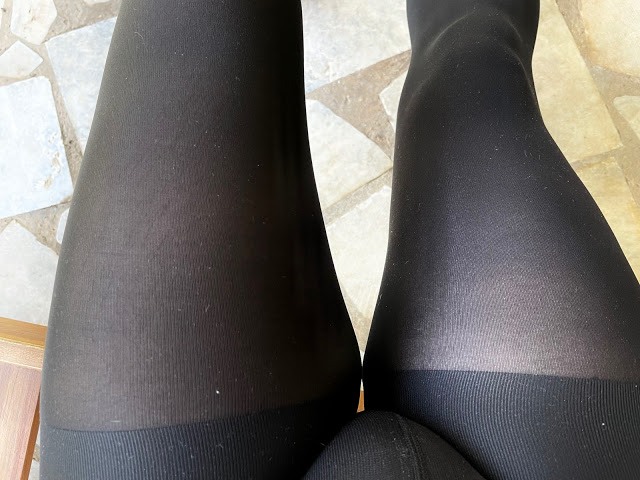 Price & availability
The Threads Opaque Tights are priced at $18.00 (USD) and $23.00 (CAD).
There is free shipping on orders over $29 USD / $39 CAD.
Conclusion
The Threads Opaque Tights are really good value for just $18.00 USD. They are really comfortable and the compression in the brief will appeal to those who like their tights to stay up and in place, as well as the feeling of support.
Reference: https://hosieryformen.blogspot.com/2021/05/reviewed-opaque-tights-by-threads.html
Perfectly Opaque Matte Tights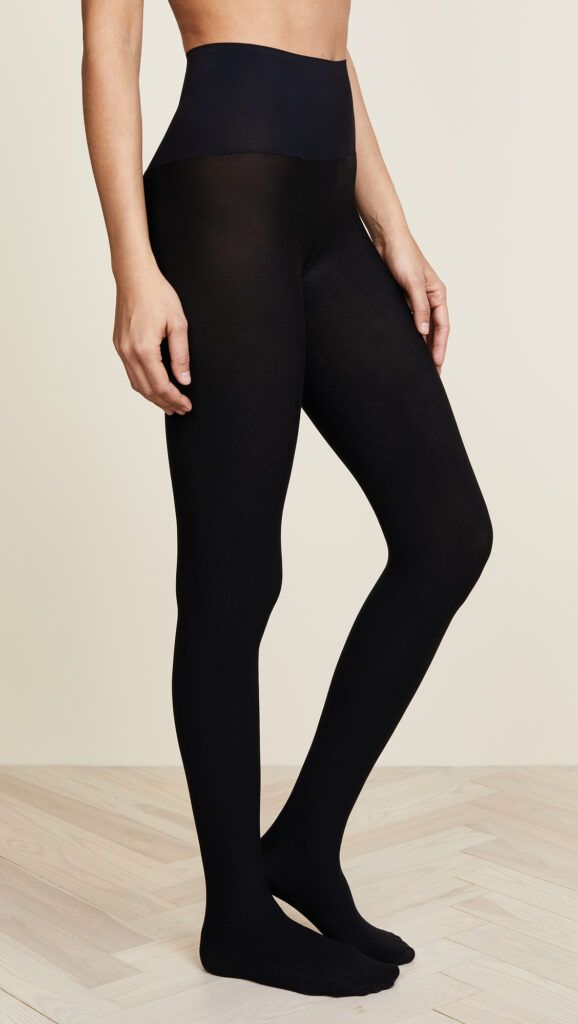 Men's Perfectly Opaque Matte Tights Review
$40
Sizing True to Size As Expected

So soft to touch. So Comfy

It is very well constructed

Customer service 5 stars

No fat roll
Perfectly Opaque Matte Tights
Perfectly Opaque Matte Tights the waistband on these are amazing and are the most comfortable tights I've ever worn …With luxurious legs and a patented, raw-cut waistband that doesn't dig or bind, these matte opaque tights will keep you looking sleek and smooth. Adored by fashion editors and star stylists, they're the perfect finish to elevate any outfit-no wonder they're part of our perfect pieces collection!
Comments Rating
( review)
Pros
Sizing True to Size As Expected
So soft to touch. So Comfy
It is very well constructed
Shopbop customer service 5 stars
No fat roll
Cons
Rolls slightly at the top
Just very prone to snagging