I like Emilio Cavallini unisex pantyhose for 2 reasons, As early as 2009, the Italian design company Emilio Cavallini designed a series of unisex pantyhose, also called mantyhose or tights for men. In fact, they are indeed at the forefront of fashion. Looking back in 2021, I found this to be an interesting company Because they launched men's pantyhose very early.
I like Emilio Cavallini unisex pantyhose
Recently I received a message from a man on Pinterest asking me what brand of pantyhose one of the pictures was because he liked it very much, but he didn't know where to buy it. Later I looked at the picture and found it was from the brand Emilio Cavallini, But I can't seem to find it on Amazon's website.
I like Emilio Cavallini unisex pantyhose for 2 reasons:
Style
The style of men's pantyhose sold by Emilio Cavallini makes me satisfied because unlike other pantyhose with a single pattern, Emilio Cavallini has rich patterns, but the only drawback is that there are not many types of colors.

But for men, these available colors are also consistent with the role of men. After all, men can't wear pantyhose of various colors like women in daily life.
Designed for men
Give your socks drawer an instant upgrade with this selection of contemporary black & white patterned socks. Comfort takes the fore with super-soft mantyhose & meggings, very versatile items that can be worn with shorts for a night out or simply under jeans to keep you warm.

Most of the pantyhose that can be bought online are not specifically designed for men. Of course, there are some unisex pantyhose, but they seem to be designed for women, if you are a man don't mind wearing pantyhose designed for women. If it does, it doesn't matter much. In fact, some men buy pantyhose designed for women. You know, men and women have different bodies. This also makes them like to wear pantyhose or need to wear pantyhose for other reasons, such as health or warmth. The man with socks is frustrated because there are too few options for pantyhose. though they do not run in sizes any different to those normally targeted at women.
News about mantyhose
The following content is reference from: https://www.dailymail.co.uk/femail/article-2111246/Brosiery-mantyhose-men-seek-warmth-comfort–fashion-statement-patterned-tights.html
'Brosiery' and 'mantyhose' take off as men seek the warmth, comfort… and 'fashion statement' of patterned tights.
The underwear staple for women is making its way into wardrobes of the opposite sex – and the look is gaining popularity.
If any were in doubt as to the strength of the trend, it even has its own name: Mantyhose.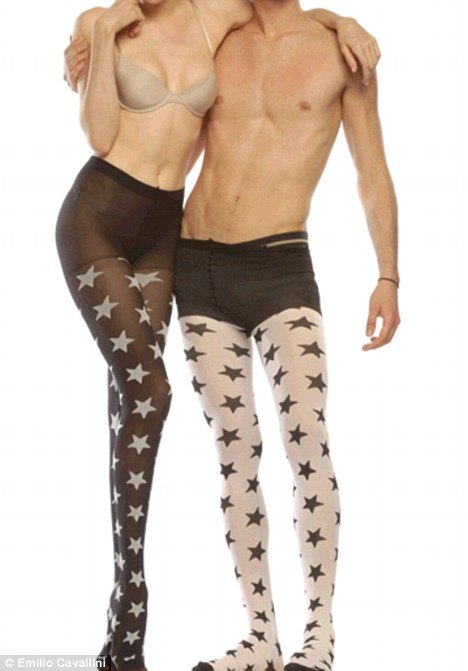 Italian design house Emilio Cavallini has designed a range of tights that it says are unisex and the styles are being snapped up by men, who make up two to three percent, or 20- to 30,000 – of the company's customers.
Costing $27, the tights, made from a mix of cotton and nylon, were launched in June 2009, reports WWD. Emilio Cavallini unisex pantyhose.
Speaking to the fashion newspaper, the company's vice president, Francesco Cavallini said: 'When we started our online shop we noticed that a lot of tights sized medium-large were being purchased by men.… So I did a search on the Internet and discovered there is a cult following for mantyhose.'
Cult or fad, the trend has gained some momentum of late, with Racked even conducting a poll as to the best name for the dubious new dressing habit.
While it was WWD who coined the term 'mantyhose', brosiery' is a clear leader in the survey, ahead of 'guylons', 'he-tards', and 'beau-hose' – a term surely reserved for the most confident men out there.
Mr. Cavallini said that his company's 'brosiery' is tested on its male employees and that their research had led to a special, breathable fabric being designed to account for men's higher perspiration levels.
His 'n' hers: Patterned unisex tights are selling well at the Italian design house, while other brands stock sheer black and even nude styles – Emilio Cavallini unisex pantyhose
The designer believes his male clients mostly seek warmth, wearing the pantyhose under trousers – but tells the fashion newspaper he has seen men pairing them with shorts, while his sister Lisa Cavallini, the company's distributor in the U.S., told the publication she believes the legwear is a style-driven choice.
'The unisex tights are mainly black and white, but I believe the men buying these tights want to make a fashion statement,' she said, though they do not run in sizes any different to those normally targeted at women.
'I believe the men buying these tights want to make a fashion statement'

emilio cavallini unisex pantyhose
The Florence-based design house specializes in a vast range of colorful hosiery and underwear, from tanks to crocheted dresses and leggings to thigh-high socks.
The designer believes the hosiery appeals to men's style tastes – they are made in stars, stripes, spots, skull patterns, black, white, and chequered styles and are marketed to both men and women.
Function over form may be the truest drive behind the sales and there is some sway in the figures that show sales are strongest in some of the world's coldest countries: 'The mantyhose are most popular with customers from Germany, France, Scandinavia, Canada and the U.S.' says Mr. Cavallini.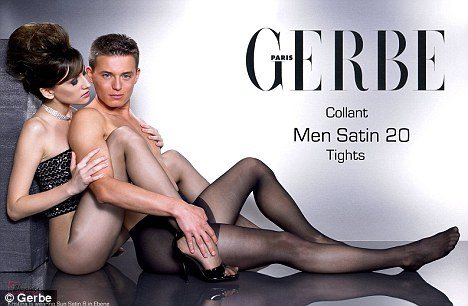 Where Emilio Cavallini dares to tread, others have gone before and a selection of men's tights forums – again, from the U.S. and Europe – unlock a hidden world of (non-novelty-patterned) male hosiery.
St Louis, Missouri-based G Lieberman, and Sons make a range of men's tights in large sizes – and with front, zippers included – while high-end makers, Falke, stock sizes that fit men.
Paris-based makers, Gerbe, feature a range of men's sheer black and nude designs on their site, worn with gusto by suave models in white shirts. Emilio Cavallini unisex pantyhose.
Where long-johns were once the norm to ward off cold winters among northern European men, could skull-emblazoned designs finally be giving mainstream male shoppers an excuse to get back into tights?
I like Emilio Cavallini unisex pantyhose for 2 reasons.
EMILIO CAVALLINI OPAQUE Tights Review
29
Value for money

Good enough quality

No rips or runs
EMILIO CAVALLINI OPAQUE Tights
Strips are always considered as classy but these are classier than most. With 100 deniers, they have beautiful and discreet thin strips running down the entire leg. This is from the toe to the waist inclusive and there is no break in the pattern at all. At the top of the tights, there is a lovely stretchy waistband. Very special tights for very special women!
Comments Rating
( review)
Pros
Value for money
Good enough quality
No rips or runs